08 Jun

THINGS OF BEAUTY" THE NEW EXHIBITION BY ANNE CAMILLI & TASS(K)IN DAYS !

Article by Jehanne des Mousquetettes

Blog Les Mousquetettes

Beauty spots, make-up minaudières or clutch bags, lipstick charts… Zoom on the unique exhibition "THINGS OF BEAUTY" that retraces the history of cosmetics and make-up accessories since the 18th century!

As you know, a few days ago the Team of Les Mousquetettes blog was partner of the first edition of the Tass(k)in Days, an event entirely dedicated to the world of beauty where we were able to discover new brands of the beauty & wellness sector but also this unique exhibition of beauty through the ages which we just adored.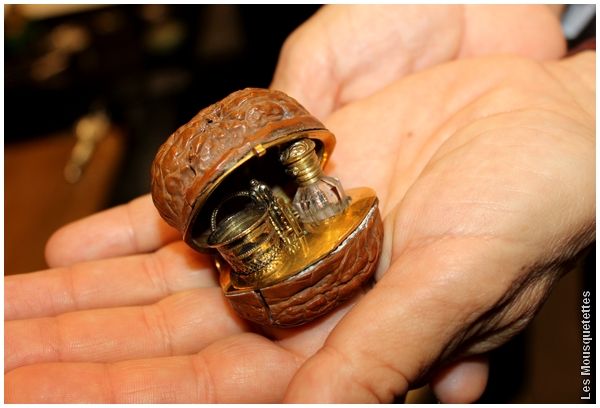 Sewing kit inlaid in a walnut shell and decorated with gold!
The organizers of Tass(k)in Days
the Tassin la Demi-Lune City Hall, a lovely little town near Lyon, the Chamber of Commerce and Industry de Lyon Métropole, the Claude Bernard Université Lyon 1 and the European Center for Dermo-cosmetology, had the excellent idea of involving a duo of enthusiasts to create an amazing Musée à la Carte® exhibition highlighting the history with a capital H of beauty objects and accessories from centuries past.
The original concept of the Musée à la Carte® was imagined by Anne Camilli, along with Jean-Marie Martin-Hattemberg, two enthusiasts and beauty historians, in an exhibition held in May 2018 of nearly 110 objects and beauty accessories from private collections. The history of beauty traces the evolution of women's social status, historical facts and the different techniques used to manufacture these objects, without forgetting the craftsmanship and ingenuity of the brands of the time.
This exhibition "Things of Beauty" reveals true works of art of exception dating from the eighteenth century to the 60s, and we had the opportunity to discover these objects in the smallest details! You will find all the photos of this exhibition on this link => Album Photo Exposition Tass(k)in Days
Beauty objects of the 18th century!
The century of Marie-Antoinette testifies to the extravagance of beauty reserved only for the elite. Handcrafted objects that highlight French know-how and luxury craftsmanship using noble materials such as silver, precious stones, gold and mother of pearl. These small, refined, and varied objects brought together everything feminine and combined several uses like make-up and oil essences to use as perfume.
Zoom on the box for beauty spots: this small box in shagreen (leather of dogfish, a breed of shark) perfectly illustrates the elegance and distinction of the time. This object was slipped into a series of large pockets or slots between the folds of the dress and was attached to a cord at the waist to ensure a woman's beauty needs in every circumstance and in total discretion. A beauty case with small compartments to hold beauty spots and small bottles containing vinegar salts and other odorous substances and including a tiny funnel (in the middle).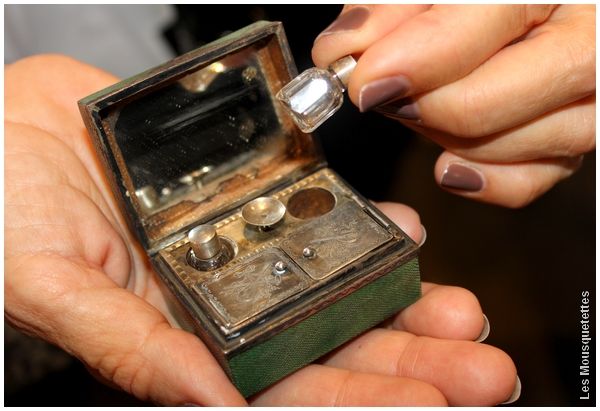 Box for beauty spots in shagreen, Tass(k)in Days and Anne Camilli exhibition
Beauty spots are small round patches made of velvet, silk or taffeta that were placed on the face and used as a complexion enhancer. However, these little accessories were also a very refined language of seduction that became a whole art for woman of the 18th century. Acording to where they were placed, they codified "naughty" and quite explicit messages as for example a beauty spot placed at the corner of the mouth meant "I'm available".
There were also small boxes or "vinaigrettes" made of metal and more precisely of chiseled silver, containing a small sponge or small cloth soaked with flavored vinegar salts to treat bouts of fainting which were quite frequent.
Dresses of the time were relatively suffocating, they consisted of several voluminous petticoats, whalebone corsets pulled in tight to shape the silhouette that tended to restrict breathing. Salts were used to regain consciousness after fainting, but also to give a blush to the cheeks that gave a natural and healthier look compared to the beauty trends of the previous century.
Did you know that ingredients contained in make-up of the 17th century were in part real poisons?
A kind of white plaster that included mercury and lead-based ceruse, was used to  give a   lighter complexion, very fashionable at the time and a symbol of nobility.
Cinnabar, a highly toxic and deadly red mineral, was applied to the lips, later replaced by  Spanish red, made from cochineal and non-toxic. Madder root was also used to obtain a red tint.
Other little wonders were on show such as an ivory ball book with a small pencil on the side used to note the names of suitors. A powder box made of Martin varnish to polish wigs and hair (Martin varnish is a technique used to imitate Chinese lacquer). Or a sewing kit made from a walnut containing a bottle of perfumed essence and a needle and thimble.
The beauty accessories of the 19th century!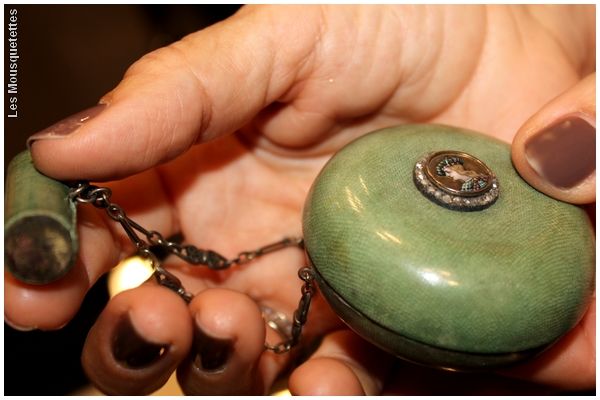 Chatelaine in shagreen, Musée à la Carte by Anne Camilli
This was the century of hygiene, with beauty finally considered as hygienic contrary to  previous centuries and makeup took a setback by being exclusively reserved to singers, actresses and women of small virtue. However, this period was above all a turning point in the history of cosmetics with the birth of famous brands that were to mark generations of women.
Did you know that handbags did not yet exist in the early 19th century? They only appeared at the end of the century and while waiting for this innovation, which we all love today, women had a type of accessory called chatelaine, a kind of very refined chain that grouped small objects such as small bottles of perfume, pill boxes etc.
Several models of chatelaines were on show including the one above as well as a version in keychain mode with several chains to which were attached a mini perfume bottle, a mini powder case. The artisans of the time had the idea of diverting the classic Chatelaine keychain to turn it into a multifunctional beauty accessory quite different from boxes and other makeup cases of the 18th century.
Zoom on La Maison Guerlain:
This iconic brand was founded in 1828 by Pierre François Pascal Guerlain who was originally a pharmacist, he first made cosmetics before creating his timeless perfumes. Originally, he launched Eau Lustrale to treat lice as well as the ancestor of toothpaste that was opium-based and known as Opiat Dentifrice for gingivitis.
Also on show during the exhibition were two sublime small perfume bottles created by Guerlain in 1850 (photo below), the sense of detail is of rare finesse and the cap has a painting of the Place Vendome for one and the Arc de Triomphe for the other. The gilded openwork metal frame covering it is made of pomponne or ormolu, a copper and gold-based alloy designed by the Parisian goldsmiths Turgot and Daumy.
Guerlain 1850 perfume bottle, Tass(k)in Days exhibition
Zoom on La Maison Roger & Gallet: Created in 1862 by two brothers-in-law who took over the Colas Perfumery (last name of their wives, at the time women were not allowed to run a business, at the death of the father, the brand changed its name) to manufacture Eaux de Cologne but also makeup such as a lip balm.
Zoom on Crème Simon : In 1869, Joseph Simon, a pharmacist and cosmetician from Lyon, created glycerin-based Crème Simon to protect the hands of washerwomen. It then it became a multi-purpose cosmetic cream. This brand later specialized in make-up, more particularly in powders for the complexion.
Trends in beauty objects and accessories in the 20th century!
It was not until the end of the 19th century, or even after the First World War, that makeup resurfaced, and women dared to wear it daily using eye shadow or coloring their lips with bright colors.
Beauty and beauty accessories, made with less noble materials such as tin very quickly became more and more accessible to women of all classes of society who adopted the new trend and vision of makeup.
Accessories also become a little larger with the new use of handbags, there were sublime pocket-sized cases like those below. The red one is not made of leather even though it looks like it but of high-quality Moroccan paper that gives a trompe-œil effect. The decorative arts greatly influenced beauty objects such as the Japanism trend used on the second case.
Beauty objects were no longer unique pieces but mass-produced, always with the aim of providing access to make-up to more and more women, without forgetting the appearance of muses and advertising for the big brands. The famous singer Mary Garden became the muse of the perfume house Rigaud, the house La Diaphane took the French actress, Sarah Bernhardt, as theirs and launched the diaphanous powder made of rice powder.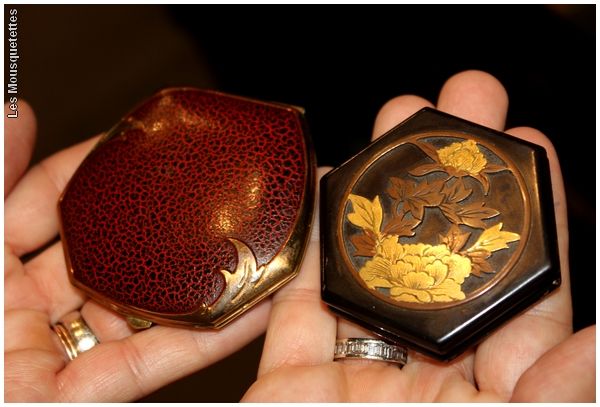 Beauty accessories of the 20th century, Anne Camilli exhibition
There was also an evolution in complexion makeup. Criteria had evolved, with less emphasis on a white complexion, and more on a more glowing or even tanned one. A fashion launched at the beginning of the Art Deco period in 1925 when Chanel and Jean Patou took sea bathing vacations in Deauville.
Caron, king of loose powder and known especially for his flagship product rice powder, obtained a patent by developing freeze-dried paper sachets with powder, a total revolution!
Creativity increased throughout the Art Deco trend, perfumers declined their perfumes in many ways, The appearance of plastic changed the world of makeup and cosmetics in general, Galalith or milk stone (made from casein, a milk protein) started being used, as well as the very resistant bakelite used for luxury packaging.
The century of hygiene was followed by the century of luxury with the creation of the Coty Perfume House in 1904 by the father of modern perfumery, François Coty, who joined forces with René Lalique to shape sumptuous perfume bottles. The Art Deco trend contributed to the elaboration of a thousand and one wonders such as a lipstick with cases sculpted in the image of Marie-Antoinette and made of Bohemian crystal to imitate malachite stone, a fragile but magnificent creation!
With the two wars of this century, women were emancipated, the world of beauty and fashion gradually expanded  giving life to unique creations, such as multi-functional jewelry serving both as jewelry and as a container for a makeup kit containing lipstick, powder and a mirror.
We also discovered the concept of beauty boxes called minaudieres or clutch bags combining multiple functions to store makeup. The name  minaudiere was registered by Van Cleef & Arpels, whose wife tended to sulk, so he made her this makeup accessory.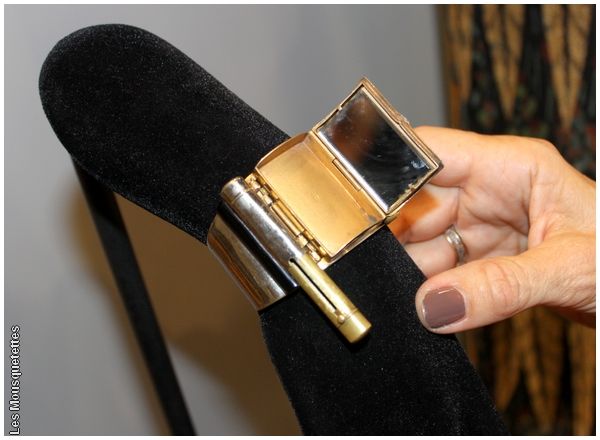 Makeup cuff, fashion and beauty accessory – Tass(k)in Days
The exhibition also had on display the original Rouge Baiser shade chart with many of the colors still found in stores today, as well as many beautiful compacts like the rare Shiseido compact and the ancestor of mascara with solid mascara bar boxes or even a Brigitte Bardot lipstick.
The exhibition also gave a glimpse of modern accessories for male beauty with a tinted balm by Jean-Paul Gaultier, a tinted powder to give a healthy glow and balms for the beard and a mustache brush in silver and leather.
This very enriching exhibition, accompanied by small historical anecdotes, enchanted us with the marvels of the history of beauty, the fashions and trends of past centuries, and how they were made and used.
We really had a great time with Anne Camilli and Jean-Marie Martin Hattemberg, real experts that we thank infinitely for their explanations, their kindness and especially for their common passion  that invite us to discover the world of beauty.